THIS PAGE IS DEDICATED TO CONTEMPORARY
MEXICAN
CLASSICAL GUITAR MUSIC


The purpose of this page is to showcase and promote the classical guitar music of Mexico. The main focus will be the composers and works after the Segovia/Ponce period which ended in 1948. This page along with the MGMC is your "go to" site to find information, scores, audio, video, links, and more about Mexican Classical Guitar Music. Come back often for the latest updates and news.
Please view the MGMC, the Mexican Guitar Music Catalog Page which is an archive of all of the guitar composers in Mexico and their works with helpful links to scores, videos, audio, and composer information.
NEWS UPDATES: UPCOMING WORKS, PREMIERES, PUBLICATIONS

Very excited about a new CD release from the Cuarteto de Guitarras de la Ciudad de Mexcio: ...a cinco is a collection of new works commissioned by this quartet from five different distinguished Mexican composers Samuel Zyman, Jorge Sosa, Sabina Covarrubias, Marcela Rodríguez, and Jorge Ritter. Each work is for five instruments--four guitars plus one other instrument/medium. Flute, clarinet, soprano voice, percussion, and electronic media each get paired with the guitar quartet and the outcome is some of the best contemporary Mexican guitar quartet music available. See below for more information and track samples.


New works from distinguished composer Leonardo Coral! Two new works will be premiered this Fall. "Fénix" - Concierto #2 for guitar and orchestra - World premiere by Juan Carlos Laguna November 13th 2016 in Mexico City and "Poema" en memory of Toru Takemitsu for 2 guitarras y string quartet. Premiere in Tokyo, October 2016 by Juan Carlos Laguna, Norio Sato & the Nomad Ensemble.


-HIGHLIGHTS IN THE REPERTOIRE-

HIGHLIGHT #8: ...A CINCO A NEW RECORDING FOR GUITAR QUARTET...SAMPLE TRACKS COMING SOON...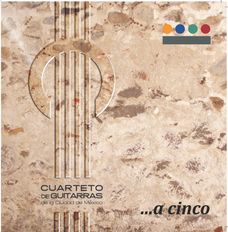 HIGHLIGHT #7:
Featured here is one of the best and most substantial works for guitar and flute from Mexico!
5pa2
is a five movement work composed in 1995 and is rhythmic, modern, accessible, and a must listen. Enjoy this performance by Pablo Garibay on guitar and Alejandro Escuer on flute. Interspersed between movements are short interviews with Maestra Ortiz discussing her work. Listen below and check out her piece for solo guitar
Sidolira
performed by Sergio Damian
here
:
HIGHLIGHT #6:
Featured here are the works of the award winning guitarist, composer, and arranger Tomás Barriero. He has impressive and substantial works for solo guitar, guitar duo, guitar trio, and guitar quartet. Barriero composes in a modern yet accessible style harmonically, rhythmically, and melodically. He does incorporate extended techniques as well, but they come off very organically and naturally with the music. His music is inventive, guitaristic, and thoroughly engaging and performed by some of the best guitarists in Mexico. Below are videos of his solo piece Noche de Ranas performed by Pablo Garibay, his guitar duo Fantasia Exotica performed by Santiago Lascurain & Santiago Bolio, his guitar trio Danza Ritual performed by the Terceto Cuicacalli, and a fantastic arrangement of Silvestre Revueltas's famous symphonic work Sensemaya for guitar quartet performed by the Cuarteto Sensemaya. Enjoy!! I know you will!!

HIGHLIGHT #5:
Featured here is a fantastic guitar duo composed by Jorge Ritter called Poemas Tabulares, which was mentioned below on my first posting. This piece is a representation of Jorge Ritter at his best. Listen for his melodies, eclectic harmonic language, and his grooving rhythm that keeps the listener more than engaged. Also listen to the very effective voice overlapping/phasing technique borrowed from minimalism starting at around 1:30 and growing in intensity till about the 2:05 marker. The recording was done by Juan Carlos Laguna of Mexico and Norio Sato of Japan. Poemas Tabulares is the title track. Because of the difficulty in finding, and subsequently, listening to the work, I have posted the tracks here.

Mvt. I - Transicion I

Mvt. II - Egloga

Mvt. III - Transicion II

HIGHLIGHT #4:
This month I am featuring an exciting and moving work by Mexican composer Leonardo Coral (b.1962). Cedro Blanco is a work for solo guitar
written in 2004 and premiered by the renowned Mexican guitarist, Juan Carlos Laguna. It has been featured in Gendai Guitar Magazine in Japan and was recorded by Laguna (
Resonancias Nocturnas
) on the Quindecim Recording Label (
https://www.facebook.com/quindecim.recordings
).
The recording includes a work for various ensembles including percussion, viola, oboe, clarinete, and piano.
Coral wrote the following about Cedro Blanco:
"In 2004, Mexican guitarist Juan Carlos Laguna commissioned a series of works as part of a project which involved the construction of guitars made of different woods. In turn, each of the involved composers was allowed to choose the type of wood which interested him or her. I was attracted to white cedar (spruce); thus, the piece's name. It is a one-movement piece, in which two contrasting sections are presented:
Andante espressivo
and
Vivo misterioso
. The former serves as a sort of introduction. Its mood is lyrical and its construction is based on modal models. The latter, on the other hand, is characterized by a rapid impulse, occasionally interrupted by chords. This section also conserves a certain modal color enriched by diverse chromatic inflections."
This is one of the best new works that has come out of Mexico. The score is published by Ediciones Mexicanas de Musica but is nearly impossible to find outside of Mexico. I hope to be able to offer this score for sale on this site soon--contact me directly if you are interested.
Please listen to my performance of the work below!
Cedro Blanco
- U.S. Premiere by Jay Kacherski in Austin, Texas
HIGHLIGHT #3:
This month I am featuring a great new recording by Mexican guitarist Jacob Ordóñez named Méxxico: Musica Mexicana para guitarra del Siglo XX y XI - Mexican guitar music from the 20th and 21st Century. The recording features solo and duo works by Blas Galindo, Leonardo Coral, Lupino Caballero, Sergio Ocampo, Ernesto Lunagomez, and Antonio Navarro. Click the PDF link below to view the CD cover and the complete list of tracks.

Information on purchasing the recording/tracks will be available soon but I have been given permission to post some of the tracks from the recording. The first is Lupino Caballero's award winning work, Metamorfosis, which is modern work that takes full advantage of the sonic capabilities of the guitar in depicting Franz Kafka's famous novella, The Metamorphosis. Ordóñez does a magnificent job with this piece. This is a must listen!!!!
Mvt. I - Metamorfosis - L.Caballero

Mvt. II

Mvt. III

Rostros de la Luna by Leonardo Coral is yet another great work for guitar duo written by a Mexican composer in the last 25 years and another great work by this composer. (You can listen to his solo work Cedro Blanco at the bottom of this page) It is performed here by the Chinobampo Guitar Duo with Ordóñez and Atanacio Enriquez.

Mvt. I - Lunas Misteriosas

Mvt. II - Lunas de Plata

Mvt. III - Lunas de Fuego


HIGHLIGHT #2:
This month I am featuring the brilliant new work Partita by Juan Trigos premiered and recorded by Mexican guitarist Dieter Hennings in 2007. Dieter's recording is called de repente and will soon be available for purchase. The composer writes: "The structure and form in general is based on principles such as variation, manipulation, and reinterpretation of the original musical material. Each movement has different characteristics that distinguish it from the other, but also similarities which serve to give unity to form. Well-defined musical articulations and gestures, continuous pulsation and overlaps, give life to the musical discourse that runs throughout the work, as a sort of dance movements in abstract as the title suggests." Check out track V for special foot percussion!

Mvt. I

Mvt. II

Mvt. III

Mvt. IV

Mvt. V


More Audio Tracks:

Enrique Santos:
Concerto #1 for Guitar and Wind Symphony (Pieza di Concierto) - Alfonso Aguirre Dergal, soloist
Mvt. I - Allegretto
Mvt. II - Lento

Mvt. III - Moderato

Juan Fernando Duran:
Sonata I - recorded by Marco Antonio Anguiano - recording no longer available - **If someone knows where to purchase this recording please let me know!
Mexican Music Links:
Scores available here: