Guitar Lessons with Dr. Jay Kacherski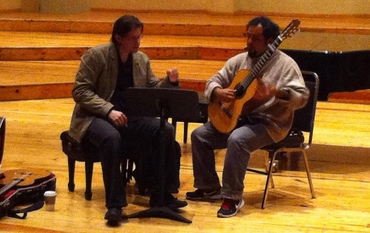 I have been teaching guitar to students of all ages for more than a decade. My private teaching studio is presently located in
Lake Charles, Louisiana
, but I am also available for Skype Lessons over the internet. I offer two recitals a year for my students to perform in as well as other performance opportunities.
I enjoy teaching and sharing my knowledge to students of all ages and backgrounds. Although my main area of expertise is
Classical Guitar
, which stresses the full technical development of both the left and right hands while also developing the ability to read and interpret classical music. I am equally comfortable teaching rock, pop, flamenco, and blues guitar. I also teach ukulele and mandolin.

GREAT PODCAST ABOUT THE BENEFITS OF LEARNING AN INSTRUMENT FOR ALL AGES!!


"From Mozart To Mr. Rogers: Literacy, Music And The Brain"

http://one.npr.org/?sharedMediaId=486452431:486926162
Contact me directly by email using the contact page or the link at the top of this page. For more information, you can also visit my Thumbtack.com page by clicking below:
http://www.thumbtack.com/la/lake-charles/guitar-lessons/guitar-lessons-kacherski-guitar-studio">Acoustic Guitar Instruction</a>
---
I am the director of the Francis G Bulber Youth Orchestra Guitar Program where we offer group guitar ensemble classes and private lessons for students in elementary through high school. Here are some pictures of the activities! Click this link for a video from this year's summer program. Click this link for the Facebook page of the FGBYO

My students in action! Past and Present!

Ryan Brenner - Austin, Texas performing Evocación and Joropo by José Luis Merlín
Jason Carrol
- Lake Charles, Louisiana performing Light and Dark by Matthew Hinsley on a steel string guitar!
https://soundcloud.com/jason-carroll-5



______________________________________________________________________________________________