Manuel Maria Ponce

In progress....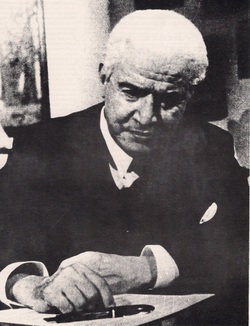 ---This page is dedicated to the life and works of Manuel Maria Ponce (1882- 1948), the most important Mexican composer during the first half of the 20th Century. This page will have biographical information, his complete guitar catalog, photos, and links to video, audio, academic writings, and more. Stay tuned and read below!

---
A brief excerpt from my thesis work on Mexican guitar music illustrating Manuel Ponce's impact on the formation and development of the guitar in Mexico:
" ...What happened to guitar composition in Mexico after Ponce's death in 1948? Was there a ripple effect created by the Ponce stone?
Classical guitar composition continued in Mexico after Ponce's death despite the country's minimal attention from the international music scene. During his lifetime, Manuel Ponce was a composer of international status and esteem and was well-connected in the circles of the elite composers and performers of the time. He studied in Italy with Luigi Torcchi and Dall'Olio (the latter a pupil of Rossini), in Berlin with Martin Krouse (a pupil of Franz Liszt), and later in Paris with the iconic composition professor Paul Dukas.[1] His letters to and from people like Stravinsky, Casals, de Falla, Castelnuovo Tedesco, Stokowski, and Segovia among others, as well as meetings and visits with Rubinstein (to whom he dedicated his
Dos Estudios
of 1933), Brailovski, Ansermet, and many more while staying in Mexico all testify to that fact.[2]
His friendship with Andrés Segovia was one of the most important partnerships in the modern classical guitar era. It had all the elements needed for success. In Ponce, there was an extremely gifted and internationally well-known composer that was willing to dedicate a large portion of his output to writing for the guitar. (He wrote more sonatas for guitar than for all other instruments combined). And in Segovia, there was the foremost guitarist of the century, who performed and promoted the works and single-handedly added them to the repertoire. After Ponce's death in 1948, Segovia wrote an epitaph about the fallen master that read:
He lifted the guitar from the low artistic state in which it had lain. Along with Turina, Falla, Manén, Castelnuovo-Tedesco, Tansman, Villa-Lobos, Torroba, etc., but with a more abundant yield than all of them put together, he undertook the crusade full of eagerness to liberate the beautiful prisoner [the guitar]. Thanks to him - as to the others I have named - the guitar was saved from the music written exclusively by guitarists.[3]
"...
There was indeed a ripple effect created by the Ponce stone‒that is, the lasting impact of Ponce's work and compositions for the guitar in particular. His dedication to the guitar helped create in Mexico an environment of sustained growth for guitarists and composers alike. By the time of his death in 1948, guitar programs at the music schools and conservatories in Mexico were no longer the exception but the norm. Young guitarists like Guillermo Flores Méndez were well-trained and well on their way to promoting and developing the instrument in Mexico and beyond. In the last thirty years, Mexican composers have started to dedicate more resources to the guitar and have earned much success in doing so. Together with the talented and intrepid guitarist-composers of this time period, Mexican composers are winning the "crusade" started by Segovia and Manuel Ponce.
[3]
Despite the success of the guitar in Mexico, little is known about the oasis of guitar literature residing in its borders. As guitarists start to make their way through the wealth of available material, they will find a great variety of works ranging from highly contemporary and progressively modern to antique and classical..."
PLEASE VISIT MY MEXICAN GUITAR MUSIC CATALOG (MGMC), THE MEXICAN MUSIC PAGE, AND MEDIA PAGE TO HEAR THIS MUSIC AND TO LEARN MO
RE ABOUT CONTEMPORARY MEXICAN GUITAR MUSIC.
Copyrighted Material!!
---
PONCE RECORDINGS & PUBLICATIONS NEWS:
A new recording just released by Mexican guitarist Sayil Lopez of music for guitar and harpsichord called Tañer Pulsando with harpsichordist Alvaro Olin. Works by Manuel Ponce include his Sonata para Guitarra y Clavecin and Preludio para Guitarra y Clavecin. Other works are the Fantasia y Pavana by Antonio Lauro, a set of sonatas by Juan Antonio de Vargas y Guzman, and Amor, Cristal y Piedra by William Ortiz for guitar, harpsichord and harp. It was recorded by Tempus Clasico Records. Click Here for more information
Interested in more Ponce? Guitarist and arranger Gregg Nestor has made some great arrangements of works by Manuel Ponce. His arrangements are available at Clear Note Publications. They include Ponce's Prelude and Fugue for left hand alone, Preludio for Guitar and Harpsichord MPO Play-Along Edition, Seis Poemas Arcaicos, and Estrellita. Click here for his website to find more information. Nestor has an impressive catalog of transcriptions and recordings from many different composers. You will want to explore his editions for sure! His CD Cantares (click photo below) includes the poems by Ponce as well as his transcription of Cuatro Canciones Aztecas by Salvador Moreno among other works.